The Light of the Season       
HOLIDAY CONCERT         
Monday Dec. 12th @ 7:30pm
Join Joyful Voice for a Holiday Concert full of fun seasonal music and audience sing-alongs!
Joyful Voice is a community choir which has been rehearsing and singing in the West End since the early 2000's. Each December, Joyful Voice performs a holiday concert full of new and familiar tunes for people of all ages to enjoy. We are returning to singing following the pandemic, and this is our first concert together since 2019! We can't wait to sing for you.
Please reserve your free ticket at https://www.eventbrite.ca/e/456360746277. Donations toward Joyful Voice and our local food bank are gratefully appreciated and accepted at the door (cash or cheque). Doors Open at 7:00pm.
********************************************************************************************************************************
The Joyful Voice Community Choir is an inclusive and open organization. Anyone is welcome to join us – just bring your love of singing. No audition or prior choral experience is required.
Our choir is truly a community organization. Its members are a representative cross-section of our diverse city. It is led by volunteers, sponsored by individual and business interests, performs both as a public service and to a broad audience, and supports those members of our community who need it the most.
Come out and see us – or better yet, join us, and be part of a fun and dynamic collective – one that values music, enjoys laughter, and brings the spirit of song to our community.
Our Fall 2022 has begun with so much excitement!   
We have good news for you!  Joyful Voice is restarting in person rehearsals on Monday, September 12th going through to concert night on December 12th.  As before, we'll be rehearsing and performing at St. Paul's Anglican Church at Jervis and Pendrell.   We're delighted to have found such talented leaders and we're more than ready to welcome you on September 12th.   –   Barbara Dale, President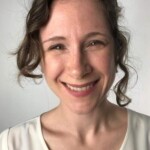 We're very pleased to introduce you to our new Music Director, Ashley Bontje, who is looking forward to meeting you.  She has chosen an exciting program for this session.  Ashley has a BA and an MA in Music Composition and has a lifetime of choral experience.  She was the founder and director of Peninsula Ladies Choir (now Island Song), a non-audition women's community choir, on the Saanich Peninsula from February 2019 until her move to Vancouver in September 2021. Ashley has directed many small ensembles throughout her life and has been a member of numerous choirs (church, pop, classical, auditioned and community choirs) since childhood. She currently sings with Lions Gate Chorus, administrates for Phoenix Chamber Choir, and arranges for Island Song, Seattle Ladies Choir, and The Choirs YYJ. She loves building friendships and community through song and is so excited to have the opportunity to direct this choir!
We're also very happy to introduce our new Piano Accompanist, Nicola Davies.  Nicola is also very accomplished in her profession.  She is a pianist, music director, and arts administrator.  She moved back to the Vancouver area two years ago and has been looking for a choir, so she's happy to have found Joyful Voice!  Beyond singing and playing with choirs, she spends most of her time in musical theatre, as a pianist and music director; her next show is 'Plaid Tidings' with Fraser Valley Stage. She has a Masters in Collaborative Piano from the University of Manitoba, and is happy to finally be back on the West Coast again.