Our mission is to promote the enjoyment and appreciation of choral music by:
encouraging broad participation that is representative of our community's diversity;
holding choir concerts for the benefit and enjoyment of the community, and;
providing an affordable and enriching musical experience and a supportive social network to persons participating in the choir.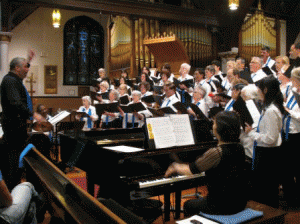 Formerly a program of the Vancouver School Board's Continuing Education Division, the choir is now an independent non-profit society. Our original name was the Roberts Community Choir, taken from our founding program location, the Roberts Education Centre in Vancouver's West End. In 2012, we changed our name to Joyful Voice.
Membership in our choir is open. There are no auditions, and you do not need prior choral experience. Our focus is on having fun and enjoying the journey. The music just happens!
Our repertoire is an eclectic mix, with touches of pop, classical, jazz, spiritual, international, show tunes and Canadian content, with a variety of difficulty levels. There is something for everyone on each of our programs. We sing in three parts, soprano, alto and baritone.
We perform for the holiday season, and in the spring. Our annual season looks like this:
Holiday Concert at a local Seniors' Residence
Two Public Holiday Concerts (early December)
Spring Concert at a local Seniors Residence
Two Public Spring Concerts (mid-May)
Our public concerts are held at St. Paul's Anglican Church, 1130 Jervis at Pendrell (map) in Vancouver's West End. We are grateful to the people of St. Paul's for welcoming us into their spiritual home. Admission is by donation of cash to the choir. (Note: The choir also donates a portion of the cash donations it receives to the Greater Vancouver Food Bank.)