Here is some information about the people who help make our choir 'SING'!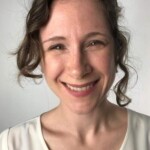 Music Director, Ashley Bontje. Ashley has a BA and an MA in Music Composition and has a lifetime of choral experience.  She was the founder and director of Peninsula Ladies Choir (now Island Song), a non-audition women's community choir, on the Saanich Peninsula from February 2019 until her move to Vancouver in September 2021. Ashley has directed many small ensembles throughout her life and has been a member of numerous choirs (church, pop, classical, auditioned and community choirs) since childhood. She currently sings with Lions Gate Chorus, administrates for Phoenix Chamber Choir, and arranges for Island Song, Seattle Ladies Choir, and The Choirs YYJ. She loves building friendships and community through song and is so excited to have the opportunity to direct this choir!
Piano Accompanist, Nicola Davies.  Nicola is also very accomplished in her profession.  She is a pianist, music director, and arts administrator.  She moved back to the Vancouver area two years ago and has been looking for a choir, so she's happy to have found Joyful Voice!  Beyond singing and playing with choirs, she spends most of her time in musical theatre, as a pianist and music director; her next show is 'Plaid Tidings' with Fraser Valley Stage. She has a Masters in Collaborative Piano from the University of Manitoba, and is happy to finally be back on the West Coast again.
———————————————————————————————————————————————————-
David Caird conducted the Joyful Voice Community Choir for over a decade. His choral experience includes the Toronto Mendelssohn Choir, the Vancouver Bach Choir and several community choirs in Windsor, Toronto and Vancouver. After a year of retirement, David was back with us for our Spring 2017 season, but he has now moved on to other adventures.